Dienstag, 9. November 2010
Going back to Europe
germanog1, 08:45h
After this little accident I had with the bike, it makes no sense to go diving before my wound in the foot is healed... so I'm back in germany for the 17th.
There I stay until my paper work for university is done, I see all my friends and then I go back to Spain.!!!

So more traveling later, one or two months diving malaysia and Indonesia.... lets see what the future brings.
... link (0 Kommentare) ... comment
Sonntag, 24. Oktober 2010
After Delhi, Rajasthan
germanog1, 13:41h
FREEDOM!!!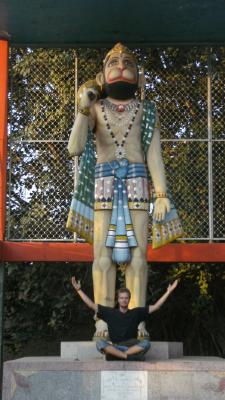 Now I really feel like I can do everything, going on my bike towards Jaipur, the wind refreshing and cooling me down, the sun burning on my skin.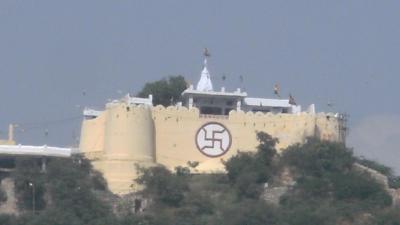 I arrived in the late evening in Ajmer, 10Km before Jaipur,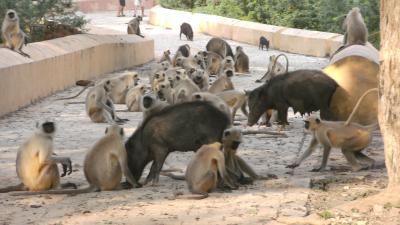 a beautiful town with lots of elephants, two lakes, a traditional swimming pool,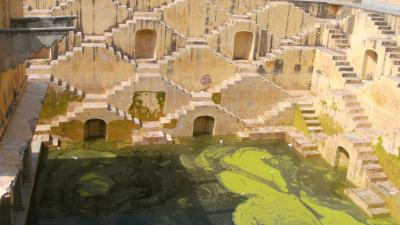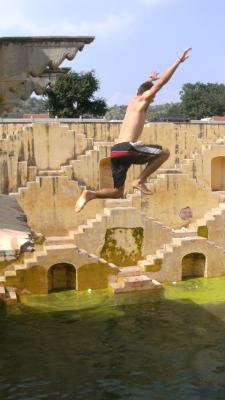 beautiful ancient temples,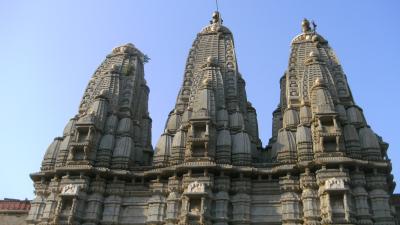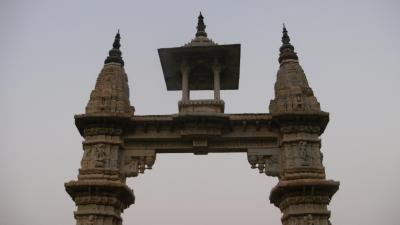 and nice landscapes.
In Amer friends invited me to a muslim wedding (arranged one) and it was nice but everything little bit too formal and serious...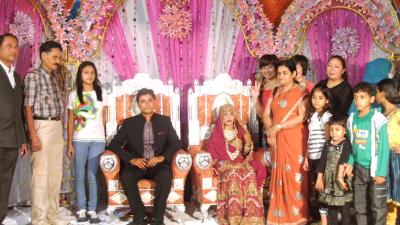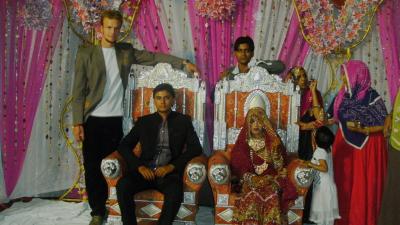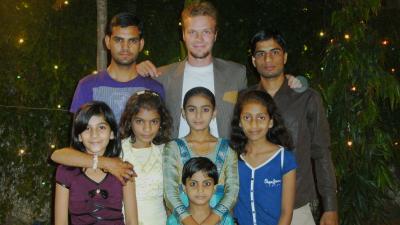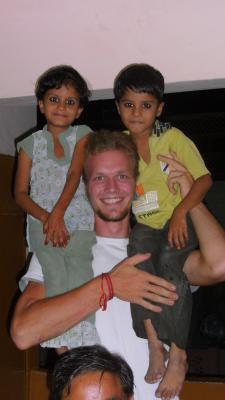 In Jaipur I had a bad experience with jewellery and hiding taxes and bit of trouble, but I managed to get out clean and with no damage, and I learned of it for my future life.
During my stay in Amer I went to see the elephants every day, very big and nice animals with a so hard skin… I don't know if they feel much when I touch them….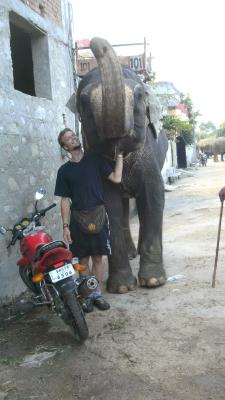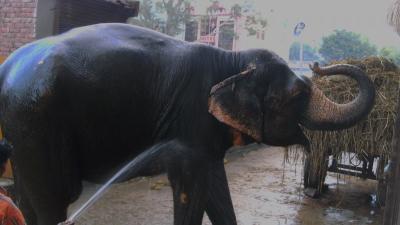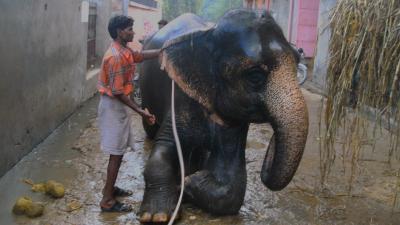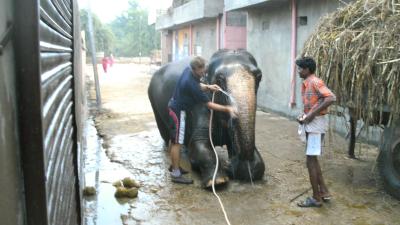 And I went nearly every day to swim in the lake, it has a nice island in the middle with old temple ruins on it, and there's a place to jump in from very high. I saw lot of beautiful buildings and temples,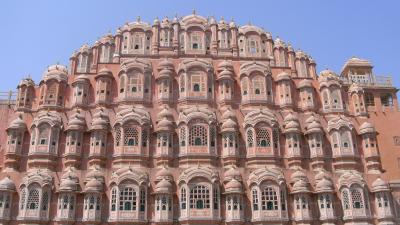 and the on I liked the most was the monkey temple,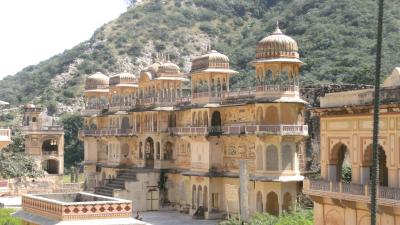 where were hundreds of mokeys and a small lake to swim also.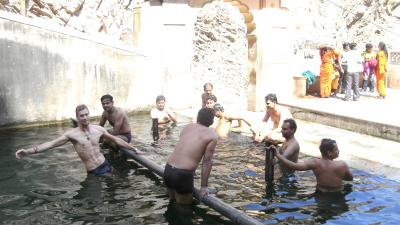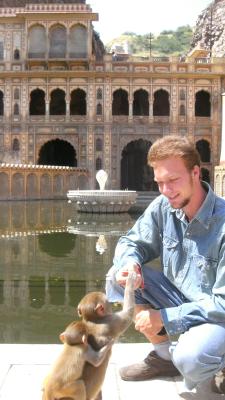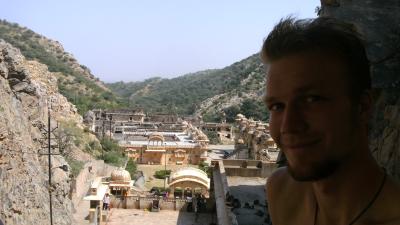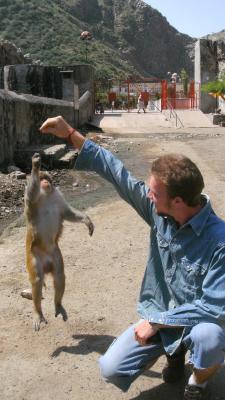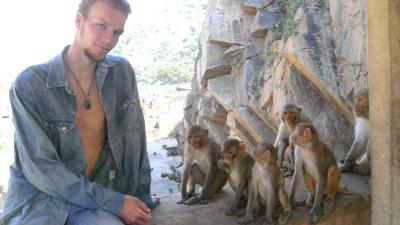 In Jaipur there is a observatory with a lot of strange things to measure stars, time, etc, and a huge kind of clock that gives the time with an accuracy of2 seconds...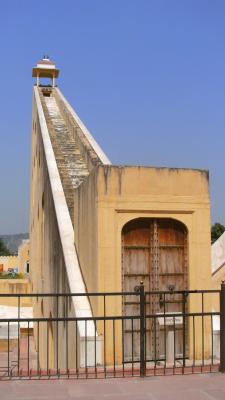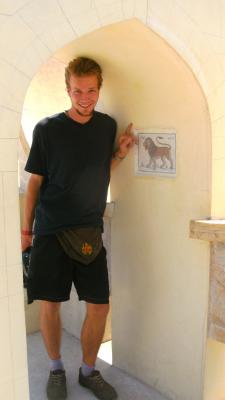 Then I continued to Ajmer (150Km away), where after some hours running around in the city searching for my couchsurfing friends place I found it because after 2or3 hours he finally picked up the phone and told me where exactly to go. Here I'm staying now in a nice clean room with AC, from my window I see the Darga (big temple).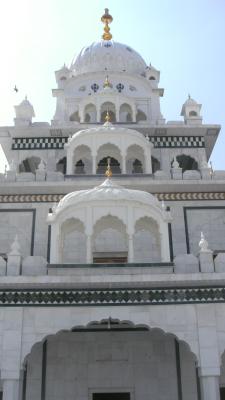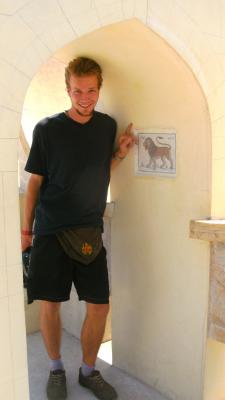 In Ajmer there is a temple that is believed to have been buildby one single man in 2 days...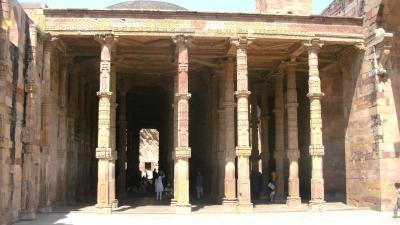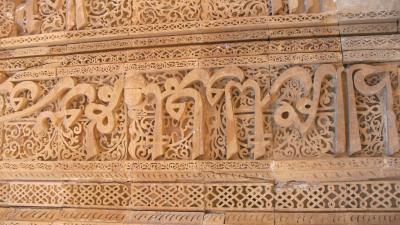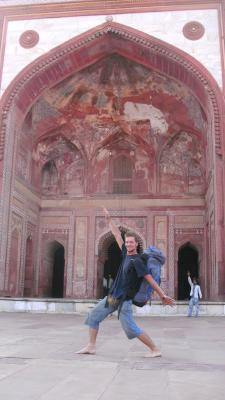 I also went to Pushkar (10km away), where I made a friend in a jewellery shop.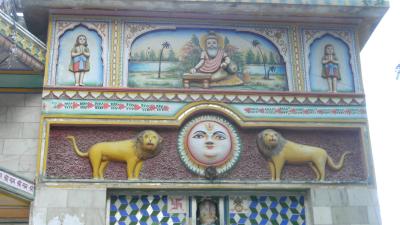 While walking trough Pushkar, some people asked me to sell them the bike, or to change it for a camel :-) …. Would be funny to go around India on a camel.
Some tourists told me about Bhang Lassi (yoghurt drink with something special inside, Bhang, a plant), and I decided to try it… I didn't expect anything like what happened; driving from Pushkar back to Ajmer it was everything Ok, but arriving in Ajmer the special effects started:
-First, the sound perception changed, I heard everything one second after it happened…
-Then everything started moving and shaking, so I parked my bike (somewhere, no idea where), I just remembered the shops name where I put the bike and started moving.
-Then I didn't know anymore where I was nor the way home… no orientation at all.
-Then my brain started working ( :-) ), I thought I understand everything people's speaking around me (it sounded Spanish to me), but they where talking in hindi…
After more or less 2 hours walking up and down the streets, some once, some twice or more (I got to see my own bike parking 3 times :-) ), I finally arrived at my couchsurfing's place and I fell on the bed and couldn't move no more (but I still turned off the light).
I woke up next morning with a kind of hangover, and first I spent some time to remember everything that happened the night before. Then, after milk, some fruits and muesli, I went to search my bike. Again for more than one hour walking up and down streets with no idea where the bike was, only asking for the shop's name: SP Taylors. Then suddenly I saw my bike standing at a place where I was 100% sure I didn't park it; It was parking on a 50 cm high cement wall beside the road with no possibility to drive it up, no ramp, nothing, and I had left the bike with handle locked, so they have had to carry it by weight with lot of people….. I found out that the police brought it there because it was not properly parking (possible…. Special lassi effects), and after talking a little bit with them and my couch surfing host to translate, they let me go without problems nor fee to pay.
Same day I went back to Amer, where 2 very nice guys from USA and Pushpeder (my host) went to see his home town,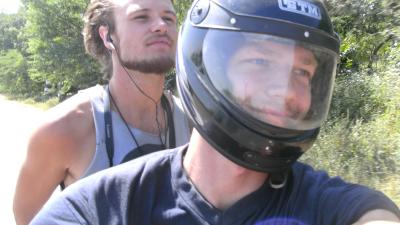 a very small village 45Km from Jaipur.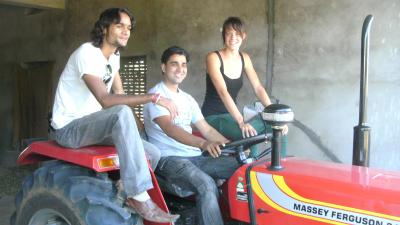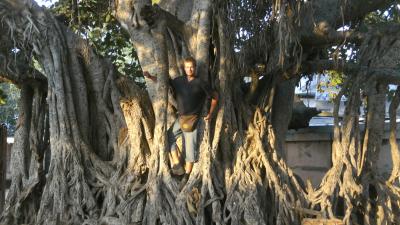 They took us on a safari to see 2 farms from friends where they show us peanuts plantations and where we tried fresh green peanuts,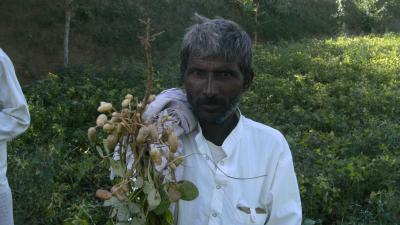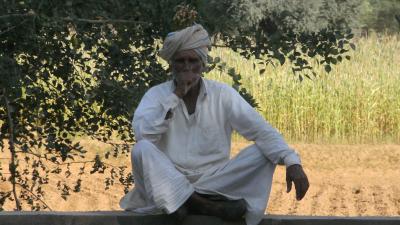 the taste is refreshing and very different from dry peanuts. We also saw 2 temples and a lot of beautiful landscapes.
We went to see the sunset to the top of the mountain behind his house,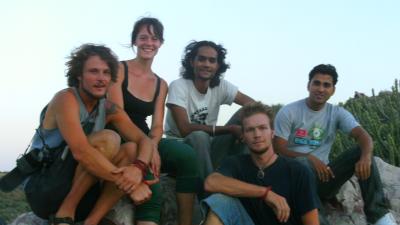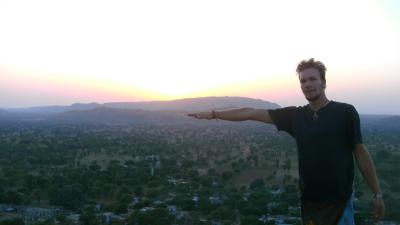 it was all rocks and cactus, and people told us there are plenty of snakes, including black cobra, but despite of cactus pinchers in some of us (luckily not me) we all got down happy and safe.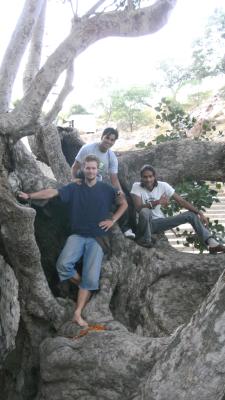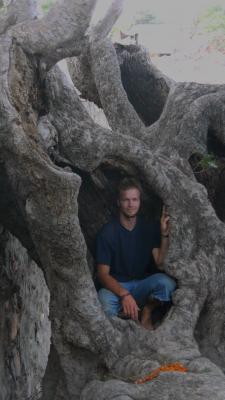 ... link (0 Kommentare) ... comment
Mittwoch, 20. Oktober 2010
since washing clothes nearby monks monastery
germanog1, 15:11h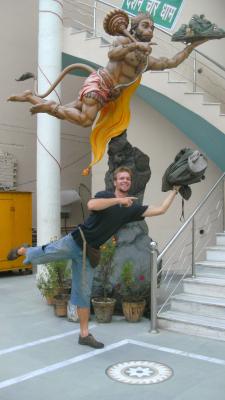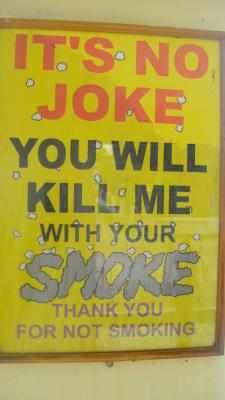 After more or less 4 days at the monastery, we went back to Clementown to Umesh's family.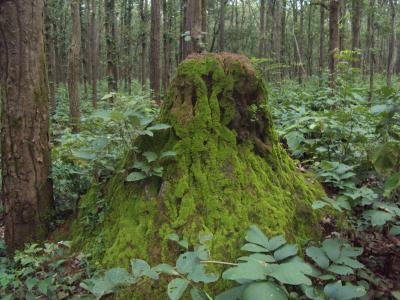 Everything is so nice in India, but you have wery careful to whom you trust; some people borrow money (you'll never see it again), other people acts like good friends and then goes to police and creates problems, or you stop beside the road to drink a chai and some very friendly and kind people distract you and steal your helmet, for example.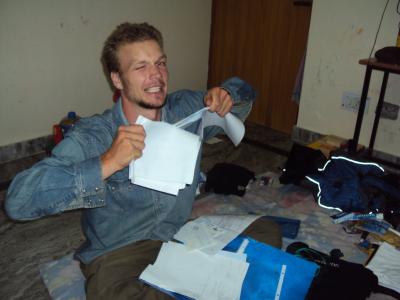 After some nice days in Clementown with Umesh and family, we also went for a nice afternoon picknick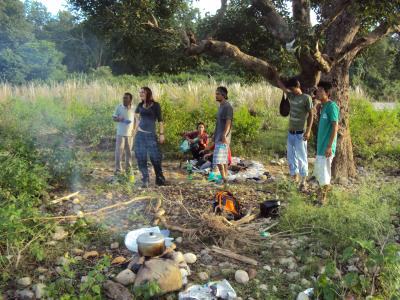 to a nearby dry river, and while we were there, water came and the river was full in time of 1 minute... some rain high up in the mountains, because we had sun at that time.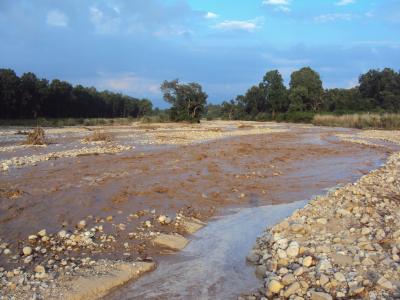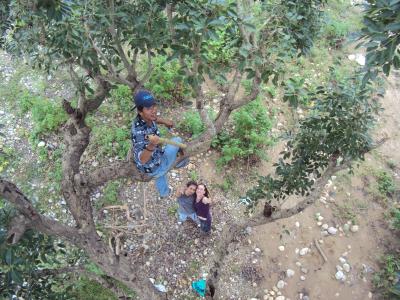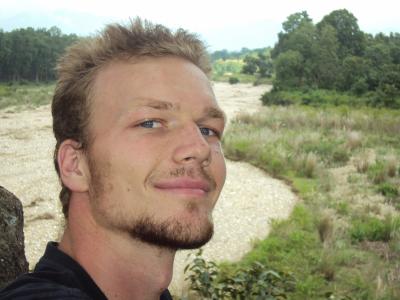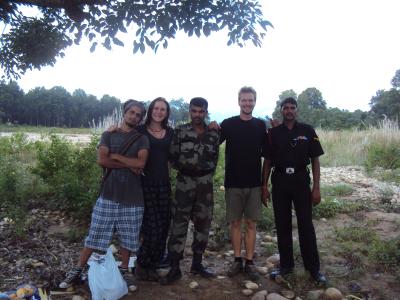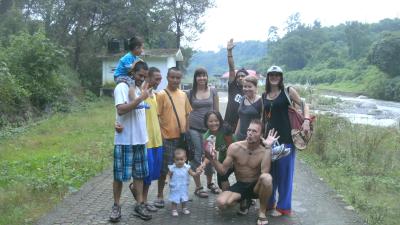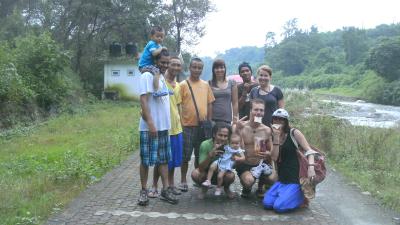 Umesh and me went to Delhi,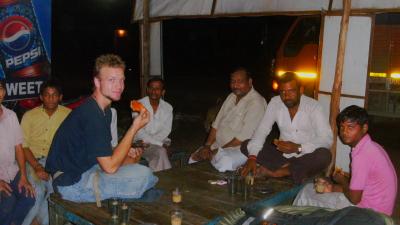 and it's not as bad as expected :-).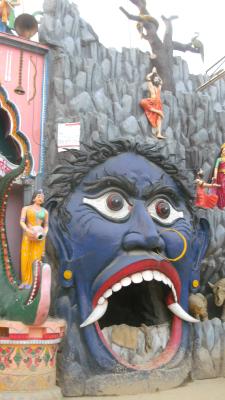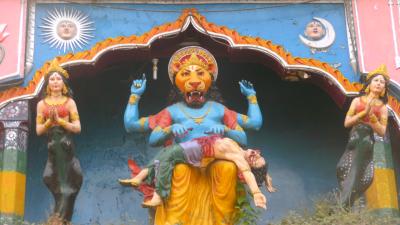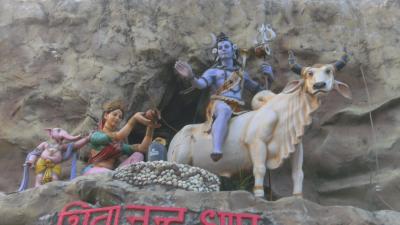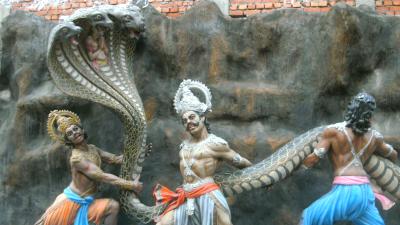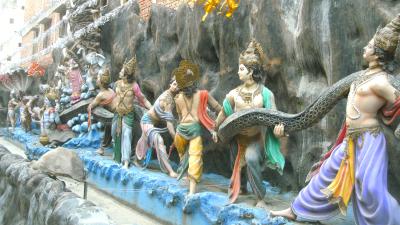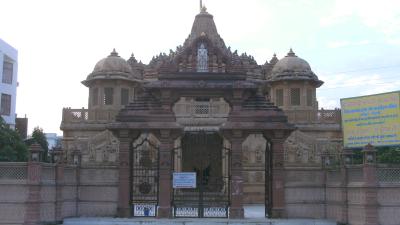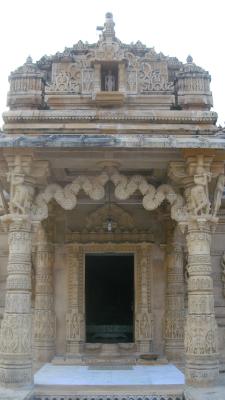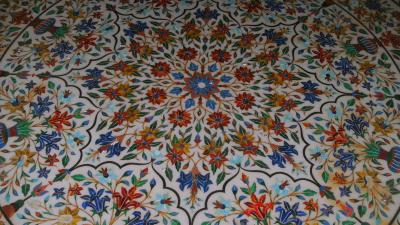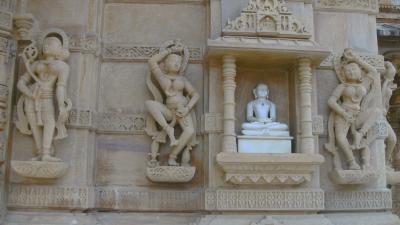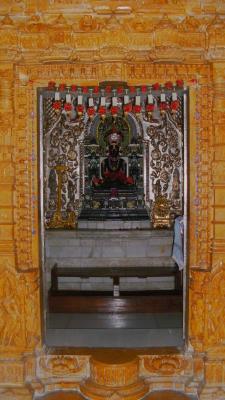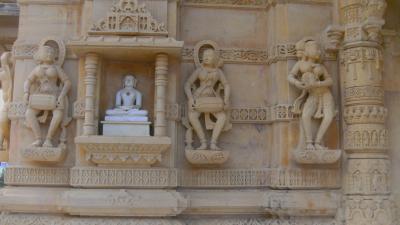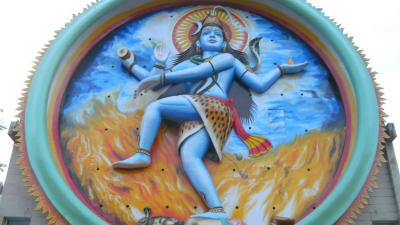 Umesh is showing me around, India gate, National Museum (where we spent too much time at the beginning and didn't have time to see the weapon section at the end…),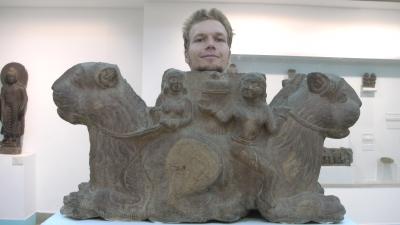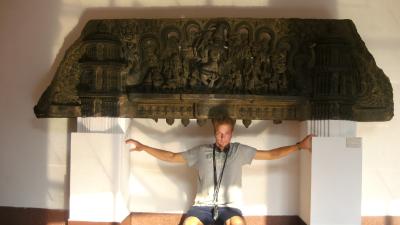 nice big parks and gardens where's nice to go jogging, Christian church, Qutub minar (old temple ruins, a very high tower and a iron pillar that is more than 2000 years old and hasn't roast anywhere).
I also met some very nice people here, one is a man that is called the walkingtalkingdictionary, and he talks sooo fats…
And then there's a very nice family from North-east of India, Nagaland, they are old friends of Umesh, and we spent good time with them talking, drinking, eating and going to museums and shopping. They cook very spicy, I think it would be even too spicy for my papa, because the have the power of the king chili!!!!!!! (hottest chili in the world). This family beside other animals, also eats dogs ( :-( ) and frogs... tasty tasty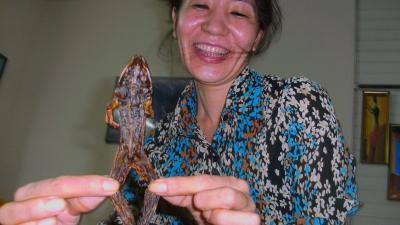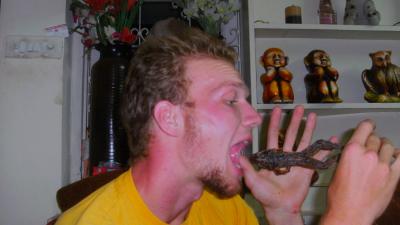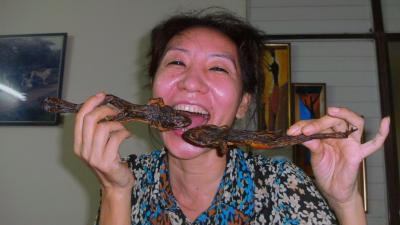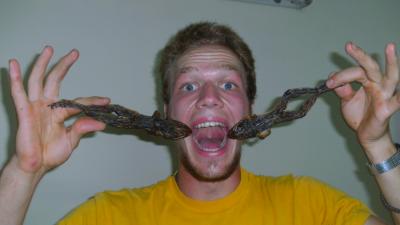 After this nice time in Delhi, I got tired about big city's too, so I continued my travel to Rajasthan, this time alone.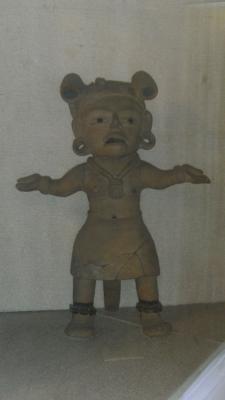 I'll upload more photos as soon as possible...
... link (0 Kommentare) ... comment
Samstag, 9. Oktober 2010
From Dharamshala to Rajasthan
germanog1, 21:38h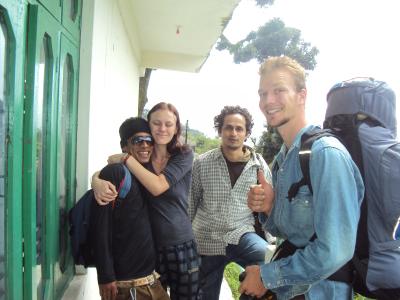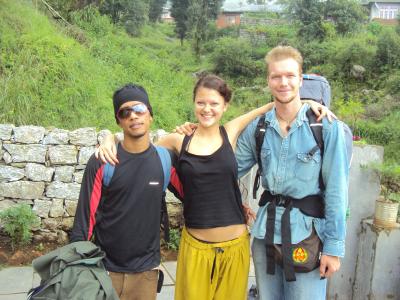 In Dharamshala Umes and a friend joined us, and after spending one more day there we decided to go on to manali (also located in mountains, about 250Km away).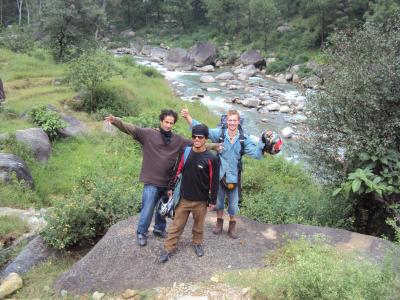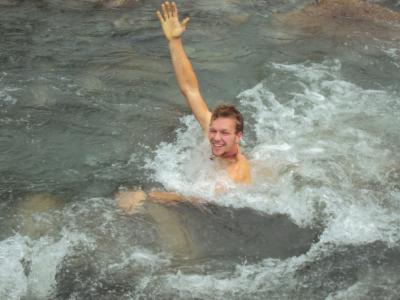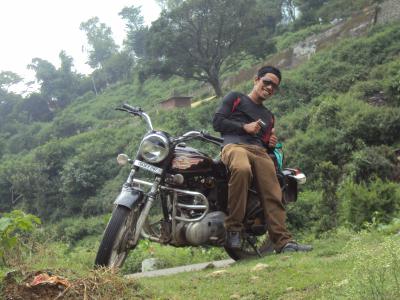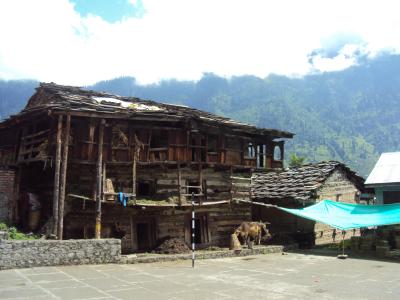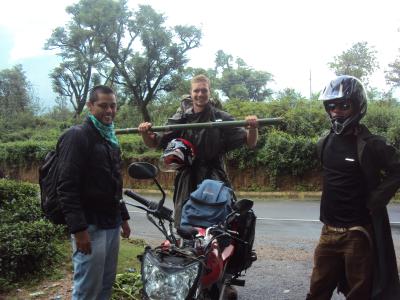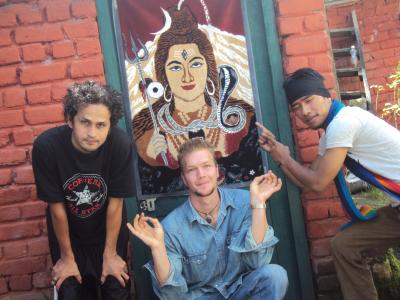 Manali is very beautiful,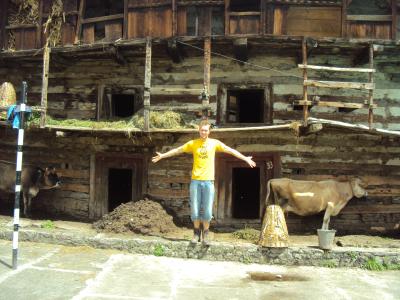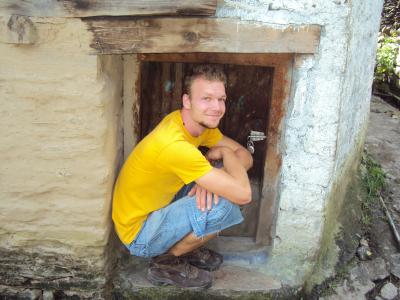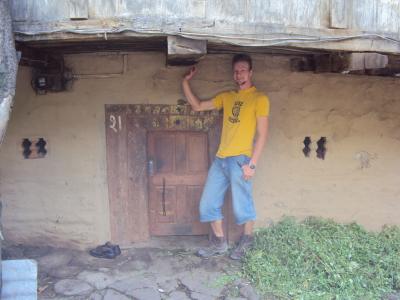 located between big mountains by the riverside; forests and a lot of green all around, and also nice hot springs in a temple nearby...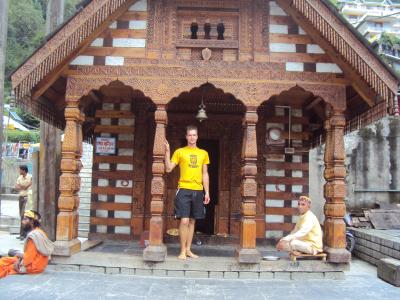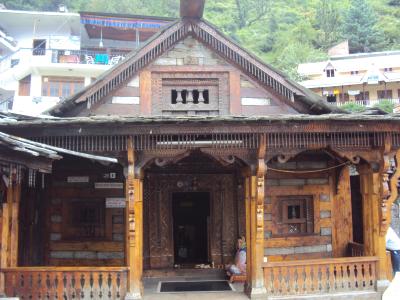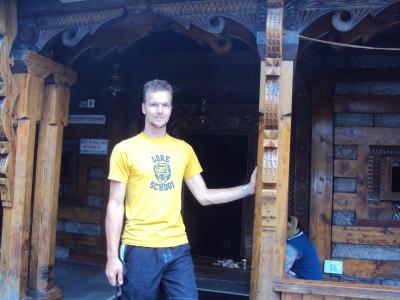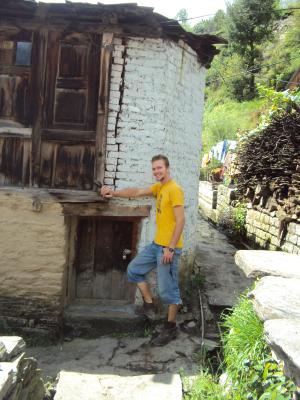 fruit trees everywhere, chill-out bars, lots of tourists playing guitar, didgeridoo, drums and other instruments.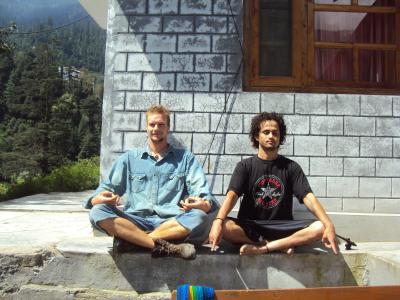 We stayed 3 days there, and in this time I finished my didgeridoo, made out of bamboo because it's very easy to make the hole through, and the sound is not the best but OK for a thing made in few hours and for practising.
The owners of the guest house where we were staying cheated on us charging more than they first said, so we didn't want to stay there any longer . Beem and Wishal went back to Dharamshala because of some girls they liked.... and Umesh and me we went on towards a Tibetan monastery to visit some monks friends of Umesh.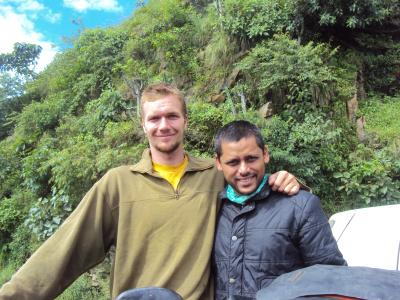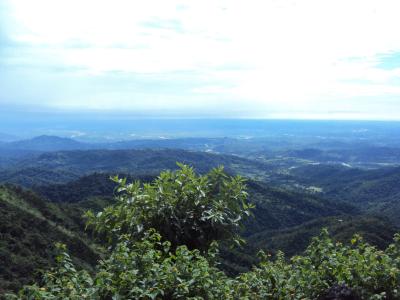 We chose not to take the highway ( in india the highways are often worse than the small roads, with lots of holes, dust, too much traffic, mud instead we went on a very small road in mostly good conditions with beautiful landscapes and no traffic. After a while driving we stopped to ask for the way, and the family where we asked invited us for a chai, they gave us fresh apples and kakis and were very nice to us.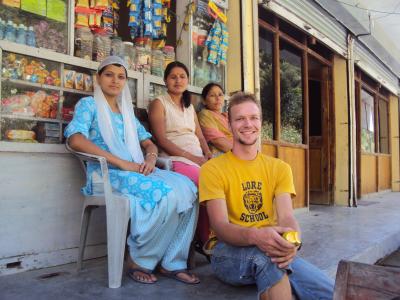 We spent the night at the pass on top of the mountains at more than 3000m high; there were 4 houses and one temple, no water and no electricity..... A man gave us a humid, bad smelling room with a shitting place in front of the door for 100Rps (what is quite expensive), and our only option was or to take it or to sleep outside in fog and rain... But we survived the night and went on early morning. Then who had to take the highway again, and it was the worst road that both Umesh and me had ever seen, and that means a lot; it was full of big holes sometimes like 30cm deep, mud or dust everywhere, too much traffic (where we with the bike had much better journey than with any car) and some landslides too. ,...);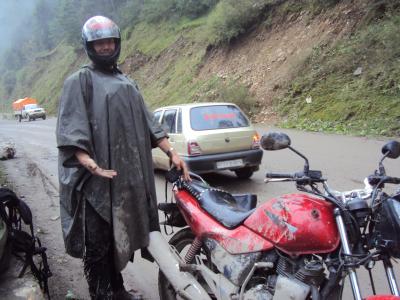 Same day, it was raining and getting dark; we stopped by a man to ask for the way, he tells us that next town is 2.5 hours away.... so we see a bus stand (dirty and wet) and we ask if we can sleep in there. He offers us to stay to sleep in his place (a 3x5 meter garage), and we accepted gratefully. When he turns on the light we see that the garage is already overfilled with sleeping people... but we still found a square meter to sleep too. Next morning (it was still raining heavily), after some hours talking and having breakfast (they didn't have much but they offered everything they had) we wanted to start riding, but we realised that we had a pincher in the front wheel and instead of riding we had to start pushing.
So after 4 kilometres pushing and with the pincher fixed, we went on heading the monastery; we had to cross 5 big landslides, some not big but with deep watery mud (pushing the bike through with mud up to our knees), other huge mountains of earth, stones, trees and big rocks; we carried the bike through and over all this, sometimes with help from other bikers but mostly alone. It was a very big adventure with great effort, but after doing something like that you know what you've done and you can be proud of it, and you see that nearly nothing is impossible.
After a very long time riding over all this and adding some rivers in the mountains close to the monastery; we finally arrived in fog and darkness at the budhist monastery. Everything was dark, no light, no voices or other sounds around us, and we had to walk around calling for somebody for quite a while until a boy with a candle came, and without a word he guided us to Tempa, Umesh's friend, who welcomed us and showed us our room where we slept till late next morning.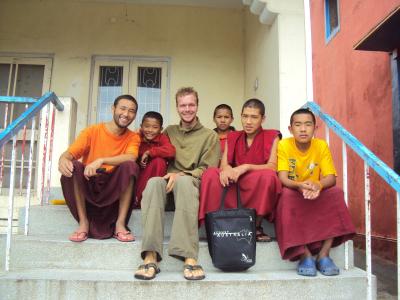 Because of big landslides after heavy rain there was no running water nor electricity at the monastery or in town, so the monks had to go every day with the car to bring water for cooking and the most needed. Once of these times they lost the car keys, and just for fun I tried with mu bike keys and whoopsaaa!!!! That car worked perfectly those....!!!!
Another day we went with some of the monks to a nearby *town* with 5 houses and a chai shop where we sat for a while and enjoyed the beautiful view around us. We went back sitting on top of a bus, we and at least 20 people more singing, laughing and having fun while the bus brought us flying over that very small mountain road back to the monastery.
We also had to wash clothes, but without water it's not easy, so another monk and me went on my bike to a river nearby with two buckets and a lot of clothes to wash.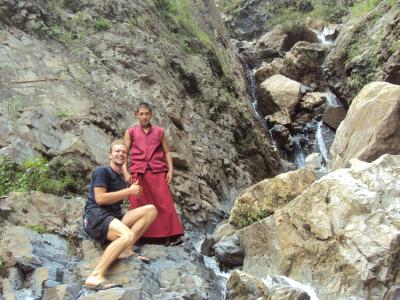 TO BE CONTINUED....... ONCE i GET TIME AND GOOD INTERMET MY FRIENDS.
JUST NOW I'M ON MY WAY TO KHAJURAHO, VARANASSI AND NEPAL.... HUGHS AND KISSES!!!!!!!!
GERY
... link (0 Kommentare) ... comment
Freitag, 3. September 2010
since 23.08.2010
germanog1, 16:38h
North india travel begins.
two friends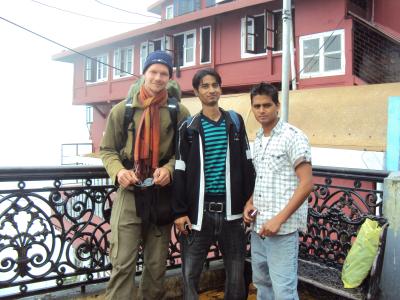 , Beem and me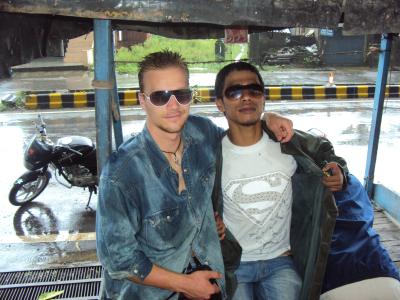 start on two bikes (My bike)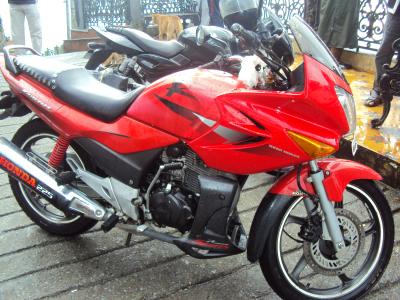 up to missouri. It's a mountain town with very beautiful lanscapes around, high mountains and deep jungle, rivers and waterfalls. We couldn't go farer than missourie because of landslides and waterfals all along and over the road, so we changed plans and started direction west-north. Going ot of the missouri mountains, we found two camels walking beside the road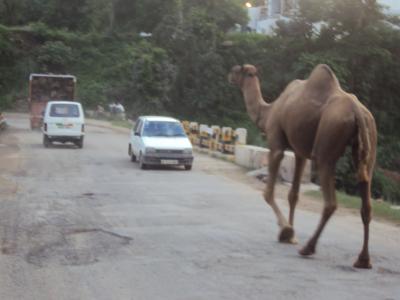 with no owner, we stopped to say hello to them and I fed one of them that was much bigger than me....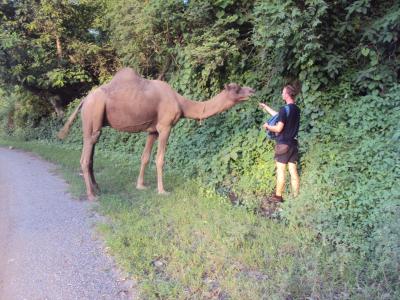 Beside camels you also find monkeys everywhere, sitting on the road, on house roofs or motorbikes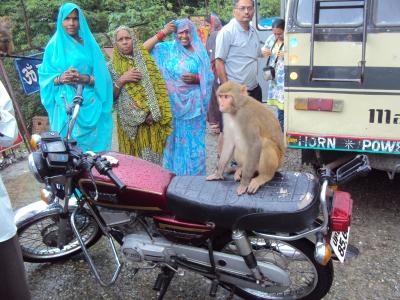 .
The next day we arrived in Chandigarh, where we went to see Rock Garden, which is a really beautiful place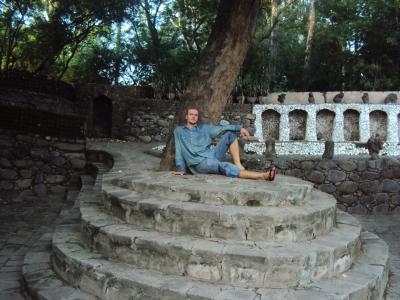 , with mini teple worlds , waterfalls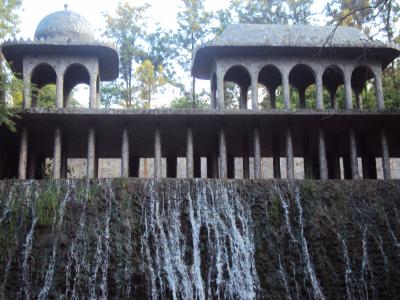 , ruins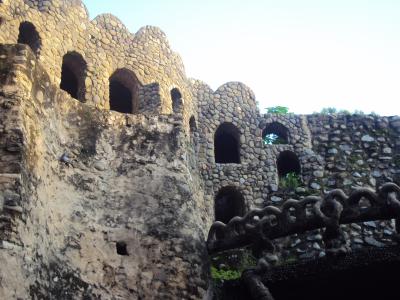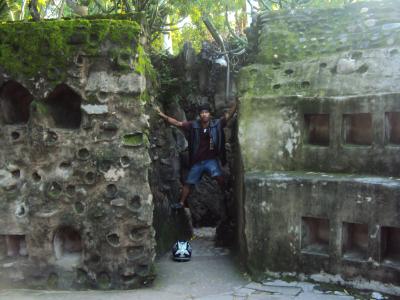 , 1.4m doors...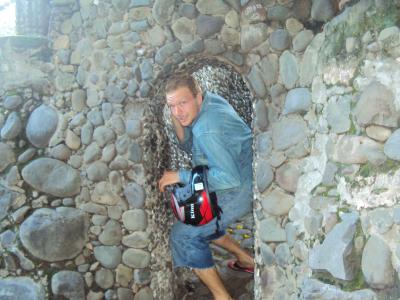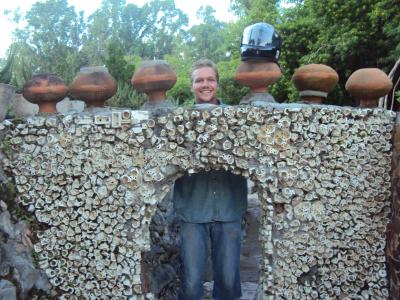 and another camel to rode on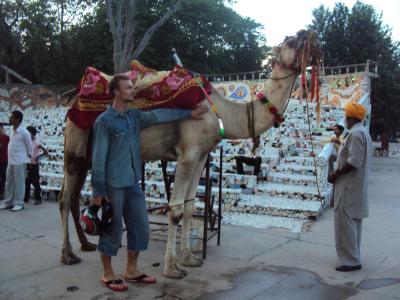 but I decided to ride on camel some other day.
The next morning we continued our way to Amritsar, and on the way we where surrounded by marihuana plants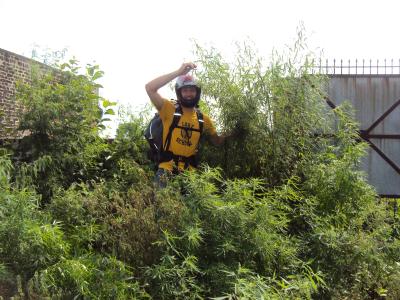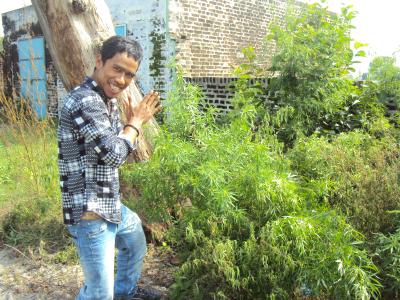 , and we stopped a while to rest and to make some chokolate for Beem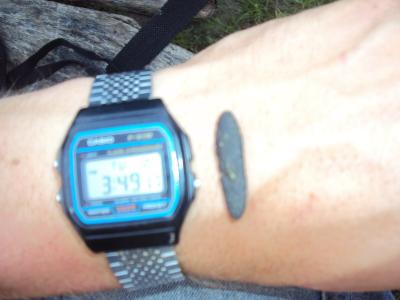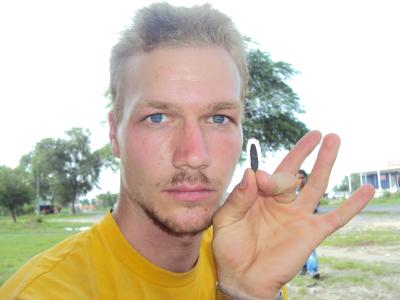 .
We arrived in Amritzar when it was already dark and got free sleeping and food for three days at the temple. Golden temple is wonderfull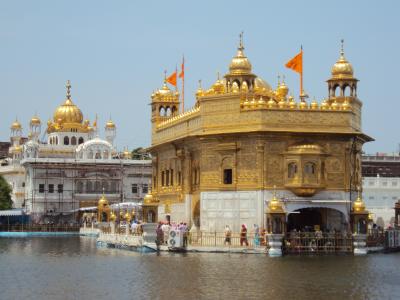 , totaly cowered with gold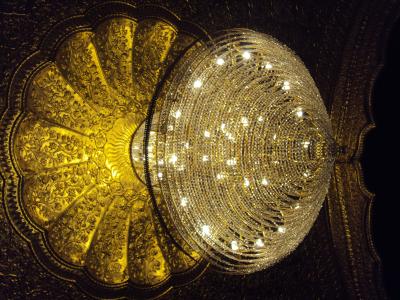 , and shining day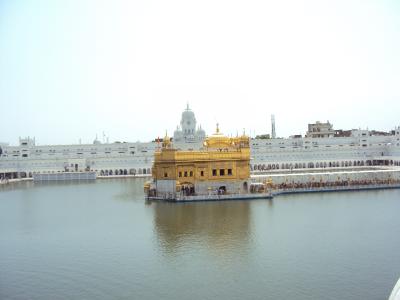 and night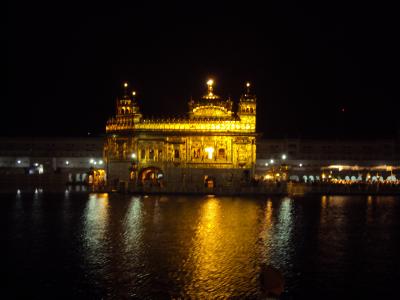 .
The second day of our estance in Amritzar we went to see the pakistan-india border opening and closure, everything very formal, high steps, cold handshakes between the militars, and the banging of the border gate after finishing the show.... Its really like a theater.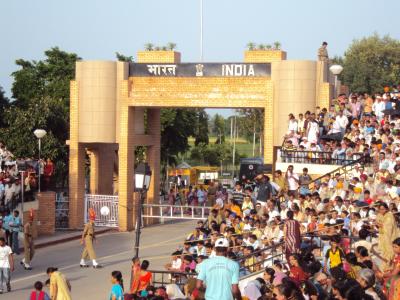 We continued our way to Jammu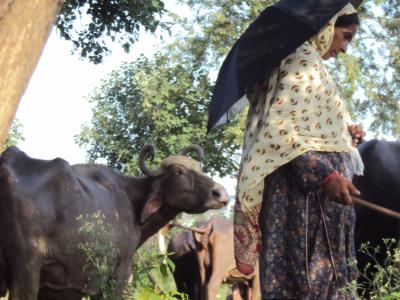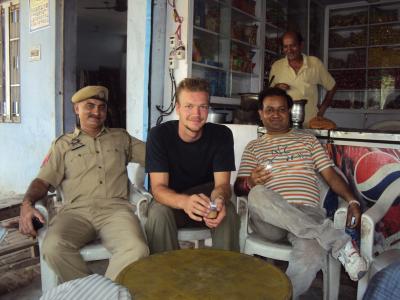 , where we stayed other two nights in a temple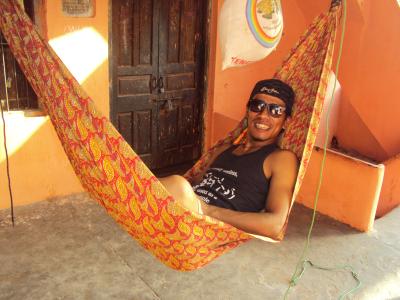 and where we met some very good and open minded people and other not so nice, who wanted to take money from us and to take us to some faraway mountains thinking that I'm rich...
We also went to see a "enormous Temple" that is famous all over India. It was a two hours ride on the bike and then 12.6 Km walking up the mountains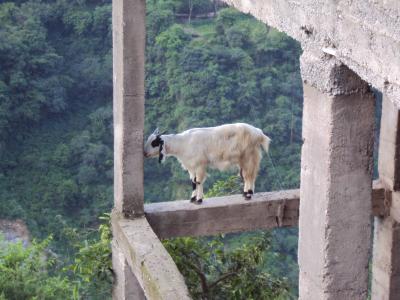 , it took us 5 hours walking and we had to pass 5 check and control points. when we finally got there, they didn't even allow us to take the camera inside, and after wating half an hour we could go inside. It was a 3x2 meter cave with 3 stones inside!!!!!!! nothing more!!!!!!!!! we saw these stones (supposed to be 3 godess) for 20 seconds and had to go outside again. Then another 4 hours way back and another 2 hours bike riding until we could sleep.... this experience I need ONLY ONCE IN LIFE!!!!!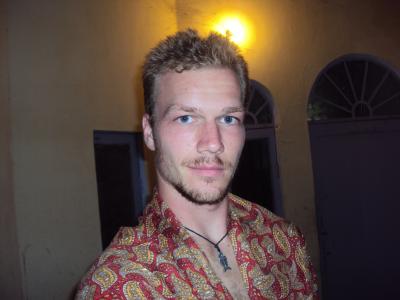 The next day we went to Dharamshala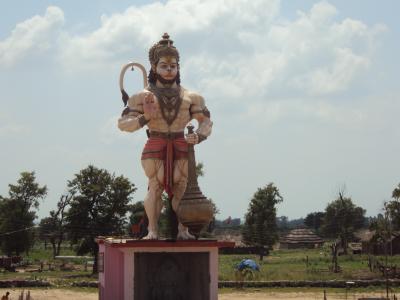 , a very beautiful place also in the mountains, it looks a litle bit like Swizerland with jungle, and it's the first place in India where I could imagine to stay longer or to live for some years...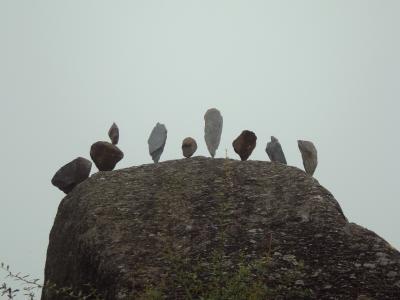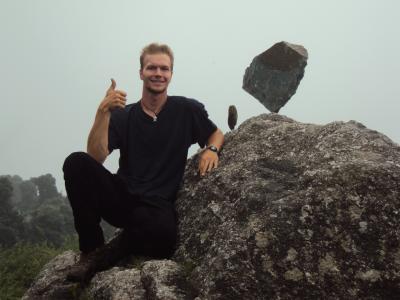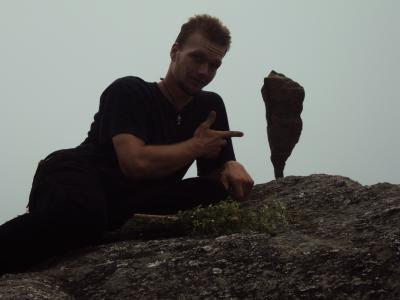 Written on 03.09.2010
... link (4 Kommentare) ... comment
Donnerstag, 19. August 2010
India, north of Delhi, couchsurfing and around with the bike
germanog1, 15:12h
NAMASTE FRIENDS!!!
I'll write in english, so most people will understand me, and if somebody doesn't, just contact me via facebook or something else.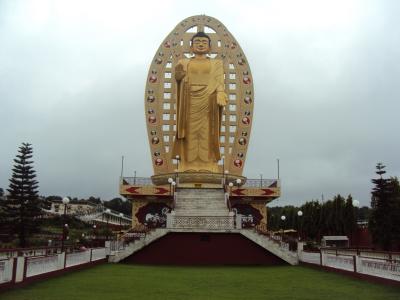 So I arrived at the airport in Delhi... finally, after more or less 15 hours travel from frankfurt, with 6hrs stop in london.
Umesh, the guy where I'm doing couchsurfing picket me up and introduced me to two of his best friends, of these I'll introduce to Beem; he is a Indian that knows 5 languages and everything about India, ranging from people, to places, food, how to move around and how to survive in the jungle.
they showed me around in the city,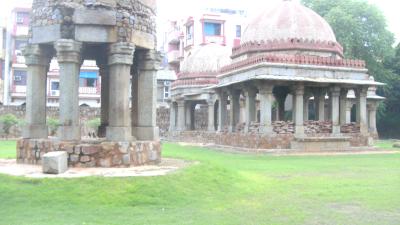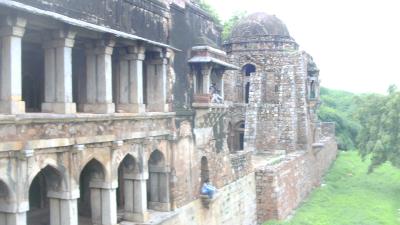 showing me everything, spicy food, chilli bars and things like how to behave and how to use indian money.
In the evening we took the bus to Clementown, 100km to the north. the buses would never be allowed to drive in europe, with rost everywhere and looking like have been caught by a train or fallen down from a plane or something like that, smashed all over, but with air condition :-). We arived 7 hours later, took a rishka (taxi with no doors or windows with 3 wheels) to Umesh home and went to rest in peace.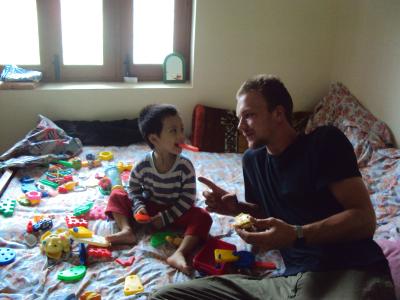 next day Umesh and Beem showed me around in the town, a very nice town with tho budhism temples, which are very colourfull and have got a nice and good feeling athmosphere. the life is country stile,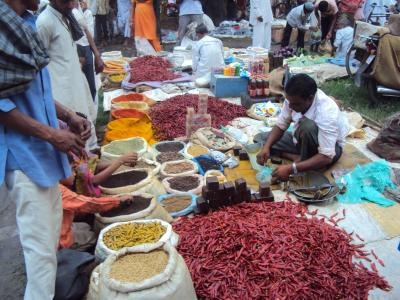 althoug most people have a bike and a phone.
Beem showed me his bike, 150cc, and let it to me for a drive. despite the fact that the trafic is like in england, left oriented (ewerithing wrong for me :-)), I got lost..... for more or less half an hour, until I found Beem again.
From that I learned that its better not to go around in a place where you don't know anything, no streets, no people, no adress where you are staying...
Next day we went to a 60km nearby town to look for a good ride for me to move around in india, because we got the conclusion that it's easier with an own bike than with public transport.
So now I'm the owner of a 250cc Karizma, very powerfull and nice. I will go with it all around India, Nepal, and maybe further on to malaysia, or I sell it and take a flight to malaysia and Indonesia.
Written the 19th august 2010
... link (0 Kommentare) ... comment